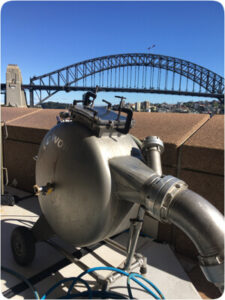 Every time we give you a quote for a pipe relining job, there are risks involved. More often than not, they extend to the need for excavation, so we have to factor that in because prices for trenchless pipe relining in Sydney tend to be significantly lower than replacing sewer systems the traditional way. Our technicians look to get pipe relines right every time, but the fact remains that pipe relining contractors only get one chance to do that.
Most of the cost-saving effects of no-dig pipe relining come about because we don't need to excavate your garden or driveway, or even nearby roads and public spaces. That's why Pipe Relining Solutions use the best materials, equipment, and train our technicians to the highest standards possible. We do that so we can keep our success rates up, and that enables us to deliver the lowest possible quotes to you consistently. The higher our rates of success, the lower the risk component of your pipe relining cost – and we figure everybody wins.
When it isn't possible to use pipe relining, Sydney cost factors for excavation are high, and things can get expensive very quickly. It's not just the digging up; it's the reinstatement of your land, your gardens and landscaping, adjacent roads, driveways, and your paving. Then there's waste disposal, which isn't cheap in the city:
Closing down a road anywhere is expensive. If that situation arises when we repair your sewage pipe in Sydney, applications for council permits cost $1,750, and there's a charge of almost $2,000 per lane, per day, per block. Pipe replacement takes longer than a pipe reline (which we often complete in a single day, depending on the size and complexity of the repair) so, permits can add up to big money.
Establishing a safe work zone requires further permits – we need permission from the council to erect barricades on footpaths, and that's before we even begin to cost traffic control.
The cost to hire two licensed traffic controllers and a ute full of specialist equipment is about $850 per day. If excavation, repair, and reinstatement take three days, essential traffic control is going to run into the thousands too.Add in the cost of labour, materials, and machinery, and things get even more expensive when compared to pipe relining rates in Sydney. It costs around $120+GST per hour to hire a small excavator and driver. If the pipe repair takes a while, it's not going to be cheap to have that plant on site.
Reinstatement of roads and public pathways also incurs fees. Excavation is a minefield of costs and complications, and it's one of the many reasons why pipe relining in Australia has gained traction so quickly. In cities like Sydney, prices for no-dig pipe relining are far more favourable than excavation, and it's easy to see why that is once you begin to appreciate what's involved with digging up urban areas. That's the reason Pipe Relining Solutions will do everything it can to get things right for you the first time, and minimise the risk component of your pipe relining cost.
If you're researching how much does pipe relining cost, this webpage is going to be a useful guide, but it's not definitive. We always advise customers to give us a call for a chat or use the online enquiry form, so we can schedule a drain investigation appointment with one of our highly trained technicians.