Pipe Relining Solutions will continue to serve our customers throughout this time of uncertainty by providing essential drain services. We want to assure you that we have put into place the following measures to protect you and our staff from Coronavirus and to help stop its spread within our community.
Training On Personal Hygiene
Our staff has been trained on the importance of hand washing and using the correct hand washing technique using soap or hand sanitiser. All of our staff carry anti-bacterial wipes and hand sanitiser.
Social Distancing
Our technicians have been trained to maintain a distance of at least 1.5m when visiting your home. To this end, we will not be shaking hands when we meet with you.
Use Of Personal Protective Equipment
Our technicians are already equipped with comprehensive personal protective equipment that is required in the normal course of work such as gloves and face masks. We have now extended the use of PPE to include wearing gloves at all times and masks when clearing drains.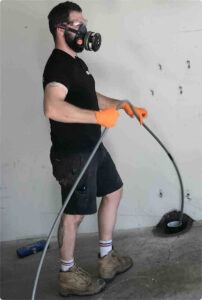 Daily Monitoring Of Staff
We are monitoring our staff daily to ensure no-one is displaying flu like symptoms. If anyone does begin to show symptoms we will ensure they seek medical assistance and self-isolate for the required 14 days before returning to work.
Keeping Your Home Clean
We will take extra care to wipe down surfaces and clean areas we have worked in within your home or work place.
Keeping Our Work Site Clean
We are keeping our work site as clean as possible to minimise the risk of spreading the virus.
If you have scheduled an appointment with us and are feeling unwell or are presenting with flu like symptoms we ask that you notify our Office as soon as possible on 1300 366 834.
Find out more about the Coronavirus here.
We look forward to continuing to serve you.